Bliss Realty Group of Central Colorado

Contact one of our trusted real estate professionals today!
If you are thinking about selling your home, buying a home or just have general real estate questions, we are here to assist you in any way we can. Put our decades of real estate experience to work for you today.
Cinda Riley
Owner/Managing Broker - Central Colorado
719-207-0161
cinriley1@gmail.com
Cinda was born and raised in Salida, Colorado and has chosen to remain in the town she so loves. She believes in Salida and its future while trying to help retain Salida's quaint and colorful history. Cinda has been very successful in business, having worked in real estate in the community for 35+ years. She feels a deep desire to give back to the public and its people who have given so much to her. Her career as a real estate broker in Chaffee County is quite impressive. She is past president of the Chaffee County Board of Realtors, Chaffee County Realtor of the Year and a past Director of the Colorado Association of Realtors. As part of the community, she has served as a Poncha Springs trustee, Planning and Zoning Commission and Salida Woman of the year. She is also a past director of Habitat for Humanity. She contributes in various ways to the Salida Steamplant, Colorado Open Space Incentive, Salida Art Walk, numerous art events, Salida Merchants Association, Salida and Buena Vista Chamber of Commerce, Rocky Mountain Elk Foundation, Ducks Unlimited, Trout Unlimited, the Chaffee County Fair, Boys and Girls Club and Heart of the Rockies Regional Medical Center. Off the field. Cinda's hobbies include her two grandchildren, family, friends, history, art, reading and the great outdoors. Cinda's willing personality to help others and the community that surrounds her, only compliment her dedication to her career that she is so passionate about.
Kim Wilcoxson
Broker Associate - Central Colorado
719-221-4997
kimwilcoxson.realtor@gmail.com
Kim, a proud Salida Highschool graduate, returned to her hometown in 2000. She re-entered the real estate arena in 2018 in pursuit of connection with people and community. Passionate about real estate and Chaffee County, Kim prides herself with knowing market trends and finding best values for her clients through innovation and leveraging technology. Before finding her passion in real estate sales she worked as the General Manager of a local real estate office and an Executive Administrative Assistant in a local CPA firm where she was certified in QuickBooks. She is committed to education, excellence, integrity, and personal communication. Kim is an active full time Broker Associate with Bliss Realty Group of Central Colorado and assists her fiancé with running his appraisal business. In her spare time, she commits herself to her photography business and enjoys spending time in the great outdoors by taking long walks or gardening. Kim feels fortunate to be a resident and a professional in such a small, vibrant, connected community.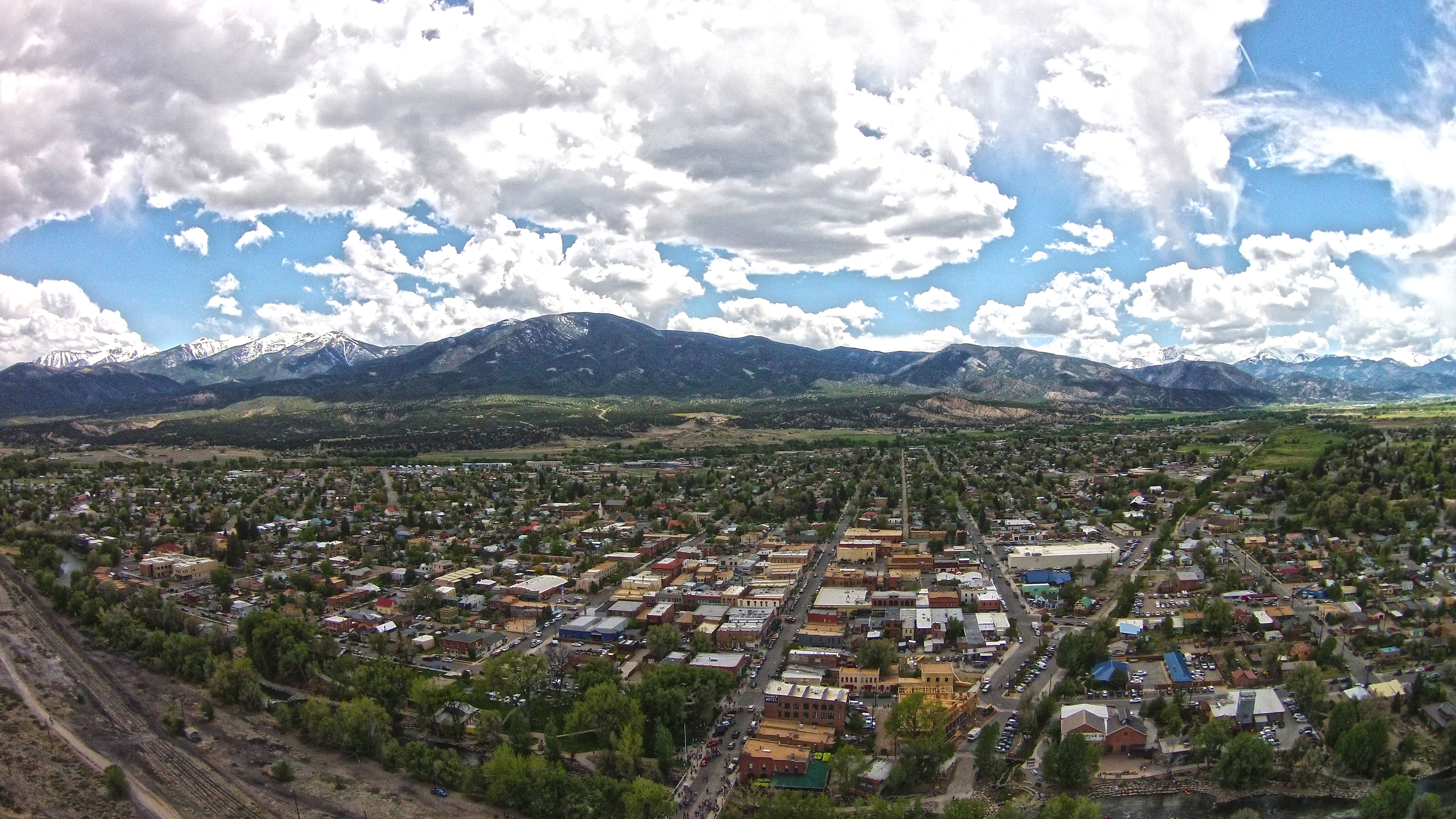 About Our Area

Chaffee County is on the eastern slope of the Rocky Mountains in central Colorado. Located high in the Upper Arkansas Valley, the Arkansas River flows toward the southeast, between two mountain ranges. The elevation of the area ranges from just under 7,000 to over 14,000 feet on its highest peaks, providing some spectacular views. Chaffee County has more mountain peaks of 14,000 feet or more than any other county in Colorado and is often referred to as the "Fourteen-er" Region. The area is known for its outdoor recreation: whitewater rafting, skiing, hiking, mountain biking, four-wheeling, zip-lining and hot springs.
Salida

Salida's burgeoning arts community has taken root in the city's downtown historic district. Artists and small business owners are encouraged to locate here. Salida is ranked 30th in John Villani's book, "The 100 Best Small Art Towns in America." Many local artists are nationally known in their respective fields. Passersby can watch as painters, potters, jewelers and sculptors work their magic in their studio galleries. For performing artists, the historic SteamPlant Theater provides an extraordinary riverside setting. In the summer, the Aspen Concert Series, Alpine Orchestra, touring national recording artists and a host of family-oriented festivals make Salida a statewide tourist destination.
Salida's business profile features a healthy balance of tourism, light industry, and community-supported businesses. As county seat, Salida is the base for hundreds of governmental jobs, while the regional medical center attracts talented health professionals from throughout the region. With average housing prices well below those in most other mountain communities, Salida attracts a diversity of energetic young families, artists, empty nesters and entrepreneurs, all contributing to the city's economic and cultural vitality.
Salida is an outdoor enthusiast's dream. With six of every seven acres designated public lands, Salida is the perfect base camp for bird watchers, hikers, peak baggers, mountain bikers, horseback riders, trail runners, rock climbers, boaters, anglers, hunters and off-road enthusiasts. In the winter there are designated snowmobile routes, endless backcountry skiing, and it's just a 20-minute drive to Monarch Mountain ski resort for no frills, big thrills, lift-served skiing and snowboarding. The Arkansas River, a signature feature of the county, passes right through Salida. Depending on whom you talk with, the pristine river is best known for its world class Brown Trout fishing, or world-class kayaking and whitewater rafting. Best yet, there are plenty of natural hot springs in the area, including Salida's own municipal hot springs pool, that serve as a soothing end to any action-packed day.
Buena Vista

Rich in history and natural beauty, Buena Vista offers the kind of small-town life most people only dream of. If you're a current resident, you've already experienced the closeness of the community.
Buena Vista is located at an altitude of 7,965' and has about 2,700 residents. The town's economy and population are steady and healthy; the crime rate is extremely low. The schools are ranked well above state averages, with a strong athletics program. Considered by many to be the capital of whitewater rafting in the United States, the area is also popular for just about any outdoor activity that comes to mind. The beautiful scenery, acclaimed arts community, and year-round mild climate make this a great place to live, work, or visit. Buena Vista's town government and staff are committed to preserving a down-to-earth quality of life amidst planned development and a vital business community.
In 2010 Buena Vista became the first Fair Trade Town in Colorado and the 14th in the National Fair Trade provides assurances to consumers that producers are paid fair prices for their products and labor.
Poncha Springs

To paint a portrait of Poncha Springs is to picture the diversity and richness of the Old Western Colorado alongside the image of a typical small town in rural America. Located in Chaffee County Colorado, in the upper reaches of the Arkansas River Basin, Poncha Springs is nestled in a valley surrounded by the scenic San Isabel National Forest. Poncha Springs calls itself the Crossroads of the Rockies, an appropriate nickname given that the town, at an elevation of 7,465 feet, is nearby to 14 mountain peaks of more than 14,000 feet above mean sea level and is situated at the junction of two transcontinental highways.
The immediate area and surrounding region are blessed with natural beauty and environments sought out by many visitors who arrive to enjoy the numerous available leisure-time activities. Winter sports and skiing are possible at Monarch Ski Area approximately 15 miles west of Poncha Springs. Small and big game hunting, stream and lake fishing, hiking, horseback riding, camping and picnicking, sight-seeing, 4-wheeling, and white water rafting are among the pursuits enjoyed by locals and tourists alike. The many area points of interest include the individual mountain peaks, forests, lakes, streams and scenic wonders, but also include ruins of old narrow gauge railroads and ghost towns from the gold rush era of the late 1800's.